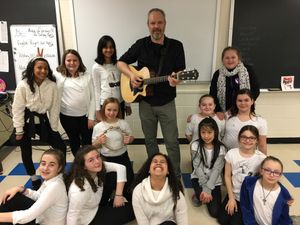 "I have done two art projects with Rob Lutes. He is an amazing Teaching Artist."
Deidre Potash, ArtWill Studio, Vaudreuil, QC
Rob Lutes has given songwriting, creativity and music history workshops to students, community groups and seniors for more than 20 years. He offers a range of different sessions that inspire creativity and excite interest in the fascinating history of popular music. 
For Quebec educators, there is funding available for Rob's workshops through the government repertoire or through the English Language Arts Network's Artists Inspire grant program. 
Visit either page here:
Rob Lutes - Répertoire de ressources culture-éducation page
Rob Lutes - Artists Inspire page
For more information, contact Rob: roblutes33@yahoo.ca or 514.515.4413 
The Workshops
Blues History and Songwriting Workshop
With a brief, fun and informative introduction to the fascinating history of the blues as well as a interactive songwriting exercise and performance afterwards, Rob Lutes' Blues Songwriting Workshop is an enjoyable, inspiring participatory activity where students learn about the blues and collectively write a song in the blues tradition.
The Stories behind the Songs 

The primary goals of this initiative are to entertain, inspire, break isolation, and bring enjoyment through sharing musical memories and learning some of the fascinating stories behind well-known songs from the history of popular music. Consisting of between 1 and 10 sessions, this program will lead listeners on a chronological tour of popular music, from its earliest iterations in America in the 18th century, through the early folk, spiritual and civic music of the 19th century and into 20th century and the flowering of genres like blues, ragtime and jazz, the emergence of Tin Pan Alley and the birth of Rock and Roll, among other major musical movements.
Each one- to one-and-a-half-hour session features the stories behind the creation and recording of a series of well-known songs, and interpretations of each one, followed by feedback or questions from participants. The program is conversational and highly engaging. Rob encourages participants to respond, share memories and knowledge and in certain cases to sing or clap along. 
"We had the pleasure of presenting "The Stories behind the Songs" series with Rob Lutes. Throughout the series, Rob captivated the audience, both as a musician and as a storyteller. He is knowledgeable, interesting, and connects with the audience who jump in in spontaneous sing along.  The joy was palpable and the feedback incredible.  This turned out to be one of the most successful series in our history, so much so that we decided to present an encore evening "The Stories behind the Christmas Carols".  The entire audience of the series signed up, and the evening was sold out.  We will definitely invite him again and highly recommend him."
Sylvie Bouchard, Chair of the Board, Arbor Gallery, Vankleek Hill
 
Courage and Creativity
In this two- or three-part workshop, Canadian Folk Music Award-winning songwriter Rob Lutes brings students on an inspiring journey through the creative process, offering powerful ideas and techniques that can be applied to any creative endeavour. Then Rob acts as co-writer with each student, setting music to their own newly written lyrics as they experience the exhilarating trial and error process that is at the birth of every song.

"Insightful and comprehensive programming and delivery. My students were inspired and enlightened in music composition." 
Craig Hodgson, John Rennie High School (music teacher)
Keys to Successful Songwriting
For songwriters of all levels, from complete beginner to seasoned pro, laying out my general approach to songwriting and creativity with some tips and tricks to getting the best out of your writing time, and with an engaging individual songwriting activity that truly opens the doors to creativity.
Writing a Protest Song
An important strain in songwriting history, protest songs have been with us since at least the 19th century in Britain when they were used to decry unfair labour practices. Illustrating this rich tradition with some examples from more recent history, this workshop uses prompts to help participants create a new protest song.
Songs of Perspective
One of richest sources of inspiration in songwriting and creativity comes from reaching into the perspective of another. In this workshop, we discuss the differences between point-of-view and perspective and the vast possibilities that come into play when writing from a perspective other than your own. We then use prompts and subject constraints to write individual songs of perspective. 
Task Songwriting
When they asked songwriter Sammy Kahn which came first, lyrics or music, the legendary tunesmith who wrote 87 songs for Frank Sinatra answered "Neither. The phone call comes first." Kahn was a working writer who didn't understand the idea of writing for himself. His songwriting was assignment based. A task.
In the history of songwriting, countless memorable songs were written this way, not from pure creativity or for personal expression, but rather with a specific purpose in mind. Songs for films; songs for musicals; songs for certain artists in certain styles and with specific subject matter; songs to serve a national function such as anthems or marches; or songs that tell an important historical story. Using text prompts, we explore the idea of writing songs that fulfill these kinds of needs, and we experience the creativity that comes when songwriting is a task.

Songs We Need to Hear 
Amazing Grace is one of the most recognizable songs in history. Recorded thousands of times and featured in literally millions of performances, the song has endured since its writing in 1772 by slave-trader turned Church of England minister John Newton. But its success would wait until the mid-19th century in America when shape-note choir leader William Walker would put the melody we now recognize to Newton's words. Why has this unusual hymn endured and emerged as one of the most important songs in history? Rob explores this question, looking at the lyrics and melody and the cultural context in which the song first flourished, and comes to the simple answer that this beautiful song gave listeners something they needed badly: hope. Following the exploration of the song, Rob engages students in a group songwriting activity to create a new song people need to hear. 
Rob Lutes - Songwriting Workshop for Mental Health Week 
Songs reflect the human experience. In this workshop led by award-winning songwriter Rob Lutes, students will explore the ways in which songs can be helpful in coping with life's difficulties. Led by Rob, students will write a song that turns a compassionate eye to issues of mental health. 
 
"Rob Lutes has offered deeply engaging Blues History and Songwriting workshops in partnership with ORA Loss & Living Program to create space for expressing grief, loss and hope. Highly recommended!"
Judy Coffin, ORA Loss & Living, Program Coordinator
Climbing the Tower - Scaffolding Iconic Songs to Learn History and Songwriting
Students learn stories behind great songs – why and when they were written and why they are still relevant. These songs are then used as models or "scaffolds" for writing their own songs.
Day one: Amazing Grace – its story and songwriting techniques/lessons.
Students then write new lyrics to the melody. 
Over intervening week, students create a new melody for the new lyrics, creating a completely new song.

This "song scaffolding" is a valuable technique applicable in many creative endeavours.

Week 2: New songs are performed. Then repeat entire process with Irving Berlin's Blue Skies

Testimonials
"Rob Lutes has offered deeply engaging Blues History and Songwriting workshops in partnership with ORA Loss & Living Program to create space for expressing grief, loss and hope. Highly recommended!"
Judy Coffin, Program Coordinator
 
"Insightful and comprehensive programming and delivery. My students were inspired and enlightened in music composition." 
Craig Hodgson, John Rennie High School (music teacher)

"We had the pleasure of presenting "The Stories behind the Songs" series with Rob Lutes. Throughout the series, Rob captivated the audience, both as a musician and as a storyteller. He is knowledgeable, interesting, and connects with the audience who jump in in spontaneous sing along.  The joy was palpable and the feedback incredible.  This turned out to be one of the most successful series in our history, so much so that we decided to present an encore evening "The Stories behind the Christmas Carols".  The entire audience of the series signed up, and the evening was sold out.  We will definitely invite him again and highly recommend him."
Sylvie Bouchard, Chair of the Board, Arbor Gallery, Vankleek Hill

"We have so enjoyed having Rob entertain, educate and help us revisit those great classic songs that are part of the playbook of our lives, these past two months! Recommended!"
Diane Kyte, Project Officer, English Community Organization of Lanaudiere
"I host a couple of coffee houses as well as a house concert series. Needless to say, we have been completely shut down since the beginning of the pandemic. Rob's series has been such a gift for our patrons, who are starved for music and entertainment. Although several members of our group are quite knowledgeable about music and its history, every session brings new and interesting facts, delivered with Rob's expert storytelling and performing skills. This activity has helped us maintain our connection and sense of community. Interestingly, not one member of the group has dropped out since enrolling a couple of months ago!"
Isabelle Delage, Host
The Side Door Coffee House
The Tilted Steeple Coffee House
Front Door House Concerts
"For 90 minutes our students were totally engaged in the presentation. To learn of the origins of the Blues as well as experience the principles of song-writing was a great opportunity. It is not everyday that students get to meet, learn from, and play with such a talented musician. This is the type of enrichment activity that any school would benefit from. Students are already asking, 'Are they coming back next year?' We can only hope so."
Don Walker
Counselor, St Stephen High School 

"In our blues education efforts, we have had the finest Blues in the Schools educators from the U.S. Fruteland Jackson, Guy Davis, Keith Brown and Michael Hawkeye Herman are those first-class specialists who, during the years of our festival, have made musical presentations and lectures at our schools.
Our experience at the latest edition of our festival in November was that Rob Lutes is one of those top specialists. He has an excellent way of relating with the kids. In his one-hour presentation, he succeeded in getting the kids involved in creating a song, from finding the subject, deciding between ideas, finding the words and finally interpreting the brand new song with them. He showed great know-how on how to relate with the students and excite their creativity."
Jean Guillermo,Vice président, Festival Blues sur Seine, Mantes la Jolie, France

"I think Rob does a great job of laying down the history of the blues by tracing its roots back to the American south - through slavery and its origins in West Africa. Informative and engaging for students of all ages - with a stimulating exercise in songwriting!"
Don Barclay, Community Learning Centre Coordinator, Gaspé, Quebec
"Rob Lutes has the blues running through his veins resulting in a constant celebration of music in all its forms.  Wrapped around his guitar, he delivers a songwriting workshop and a blues history lesson that captures the attention and interest of his audience, resulting in a great workshop of the blues and leaving all with an appreciation for this and other genres of music."
Mable Hastings, Director, Missisquoi North Volunteer Centre